CEO of charity named in the Shaw Trust Power 100 list
Jennie Williams CEO and founder of Enhance the UK, a charity which aims to challenge perceptions of disability through its campaigning work and its disability awareness training has been named in the prestigious Shaw Trust Power 100 List. Now in its fifth year the Power 100 List celebrates the achievements of individuals who strive to break down barriers around disability to create a more inclusive world.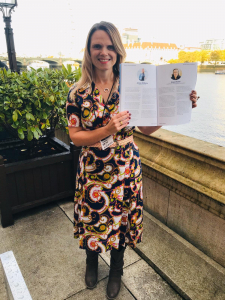 Challenging Perceptions
Jennie and her team of freelance disabled trainers' campaign to change public perceptions of what disabled people can do by delivering interactive disability awareness training for public and private sector organisations. Insightful, engaging and fun the topics range from general disability awareness training, to deaf awareness training and British Sign Language lessons.
She said "1 in 5 working adults in the UK have a disability which is a fact that surprises many people. I'm a CEO and mum of two toddlers, and whilst my degenerative hearing loss means I Skype instead of phone, and lip read instead of hear each word, it doesn't stop me adding value to businesses I work with, the teams I lead or the community I live in.'
Jennie continues 'It's wonderful to be recognised in the Shaw Trust Power 100 List as hopefully it highlights the need for more open conversations, training and inclusivity in business, education and communities."
Tackling the Issue Head On
My brilliant team and I work with organisations such as Media Institutions,  Premier League sports clubs, galleries, transport companies and MP's.  We strongly believe that open discussion and tackling the issue head on is key to overcoming unnecessary barriers and outdated thinking around disability.
Jennie set up Enhance The UK after working in the care sector where she became frustrated with the lack of practical information and support available for people who wanted to know more about communicating with disabled people both professionally and personally.
Ambitions for the Future
Jennie explains: "People with a disability have the same hopes and dreams as everyone else. Be that climbing the career ladder, exploring different countries or falling in love and settling down. The biggest barrier we face is poor communication and limited understanding but that shouldn't stand in the way of achieving our ambitions. Let's work together to share ideas and knowledge, learn from each other and together we can all benefit from living and working in an inclusive society."
Learn More
Find out more about our accessibility audits and disability awareness training and get in touch if we can support your organisation. Connect with Jennie on LinkedIn.
#DisabilityPower100 #EnhanceTheUK