Jobs at Enhance the UK
We are delighted that you are interested in working with us at Enhance the UK to change society's perception of disability.
Your work life balance is very important to us this is why we offer the following:
Annual leave, family leave and compassionate leave
We provide an annual leave entitlement of 25 days per year plus bank holidays. We adjust this if you are part time. We also offer employees compassionate leave and family leave should this be necessary.
Flexible working hours
We believe that getting the balance right between working and time off is essential to our employee's wellbeing. This is why we are always open to considering suggestions of working hours to suit your needs.
Other benefits of working with us
Free eye tests
Support, advice, and counselling via our employee assistance program
Generous pension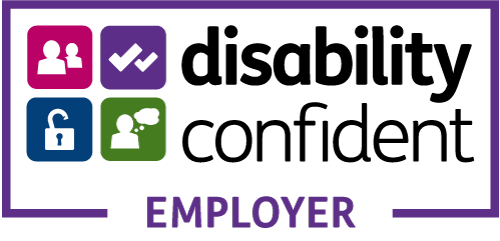 Employing disabled people
Equality and inclusion are at the heart of everything we do. We want to create a truly diverse and inclusive workplace.
We are a Disability Confident employer. This means that we are committed to:
Actively attracting and recruiting disabled people
Providing a fully inclusive and accessible recruitment process
Offering an interview to disabled people who meet the minimum criteria for the job
Being flexible when assessing people so disabled job applicants have the best opportunity to demonstrate that they can do the job
Offering and making reasonable adjustments as required
Encouraging our suppliers and partner firms to be Disability Confident
Ensuring employees have appropriate disability awareness training.
Promoting a culture of being Disability Confident
Supporting employees to manage their disabilities or health conditions
Ensuring there are no barriers to the development and progression of disabled staff
Ensuring managers are aware of how they can support staff who are sick or absent from work
Valuing and listening to feedback from disabled staff
Reviewing our Disability Confident Employer self-assessment regularly
We recognise that everyone is unique and may have particular needs during the recruitment process. If you need any job information in a different format or if you need additional support with your application please contact us on hello@enhancetheuk.org or telephone 0208 226 5055 to discuss alternative ways of applying. This includes paper, video and audio applications.

Available positions
Freelance Marketing and Communications Lead
Job descriptions can be vague, so we'll do our best to be up front about this freelance role and who we'd like to join our small but mighty team.
We're looking for a confident and strategic communicator. You'll have strong social media marketing and PR skills and be creative enough to make organic content deliver results. Most likely you'll have at least 3 years' experience under your belt.
You'll appreciate that we're a small team and be willing to roll your sleeves up and do the small tasks as well as the big thinking and will enjoy the challenge of working on what are often unique projects.
The part-time role requires flexibility and ideally, you'd be available to work the 10 hours over a minimum of 3 days per week.
Key responsibilities
Content
Managing both EnhancetheUK and UndressingDisability social media channels, including engagement
Creating and scheduling content for both channels. This includes liaising with other creators on social media to collaborate on occasional posts
Hold frequent meetings to discuss upcoming content with the team and fill in the content plan
Searching for news stories or blog articles to share with our audience
Website
Proofread and occasionally write blogs for the website
Upload blogs and resources to the website making copy changes for SEO purposes
Analytics
Conduct monthly social media analytics and use the information to inform future content
Conduct monthly website analytics as they relate to organisational social media KPI's
Use analytics to identify trends or improvements
Requirements
Must understand the different social platforms, including how content must be altered for each one
Must have the ability to alter communication styles and tone of voice between the business side of EnhancetheUK and the sex and disability topic
Must be comfortable discussing sex, relationships, and disability both on the internet and with the team
Have an understanding of social media analytics
Experience using graphic design tools such as Canva or Adobe suite etc
Experience using a content management tool is preferred
Basic understanding of website analytics is preferred
Training
Disability awareness training, digital accessibility training and detailed insight on our range of products and services will be provided. There will also be a handover from our current marcomms lead.
Topics
The role involves confidently communicating on a broad range of topics from deaf awareness to sex and disability. Please look at the content on the Enhance The UK and Undressing Disability web pages and social media channels and ensure you are comfortable with the topics before applying.
The Application Process
Step 1: Apply
Send us your CV along with the complete task outlined below by the 28th of June to hello@enhancetheuk.org
Task
The UndressingDisability Love Lounge on our website is a place for anyone to send in their questions regarding sex, disability, relationships, intimacy and more. Then one of our experts write back a response with some actionable advice.
Love Lounge- https://enhancetheuk.org/about-the-love-lounge/
We would like you to outline for us how you would go about creating a post for both Instagram and Twitter advertising the Love Lounge. It is up to you whether you choose a specific question or just the Love Lounge page in your post.
You do not necessarily need to create the post; we would like to know if there are any frameworks or key details you would bear in mind when posting on the individual social channels. This could be best practice creative wise or copy wise.
Don't be afraid to add any notes of any information you might need to know more of before posting.
Step 2: Video Call
Shortlisted applicants will be contacted by 30th June and asked to take part in a 45 minute video call on the 4th July to chat about the role and for us to learn more about you, and for you to learn more about us and how we work.
Step 3: Outcome
The successful applicant will be notified by 25th July.
We recognise that everyone is unique and may have particular needs during the recruitment process. If you need any job information in a different format or if you need additional support with your application please contact us on hello@enhancetheuk.org or telephone 0208 226 5055 to discuss alternative ways of applying.