Jobs at Enhance the UK
We are delighted that you are interested in working with us at Enhance the UK to change society's perception of disability.
Your work life balance is very important to us this is why we offer the following:
Annual leave, family leave and compassionate leave
We provide an annual leave entitlement of 25 days per year plus bank holidays. We adjust this if you are part time. We also offer employees compassionate leave and family leave should this be necessary.
Flexible working hours
We believe that getting the balance right between working and time off is essential to our employee's wellbeing. This is why we are always open to considering suggestions of working hours to suit your needs.
Other benefits of working with us
Free eye tests
Support, advice, and counselling via our employee assistance program
Generous pension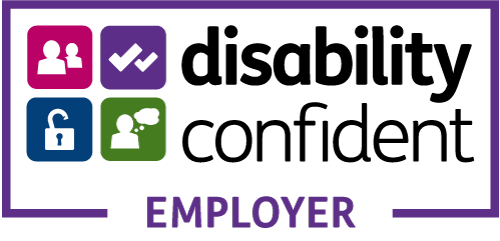 Employing disabled people
Equality and inclusion are at the heart of everything we do. We want to create a truly diverse and inclusive workplace.
We are a Disability Confident employer. This means that we are committed to:
Actively attracting and recruiting disabled people
Providing a fully inclusive and accessible recruitment process
Offering an interview to disabled people who meet the minimum criteria for the job
Being flexible when assessing people so disabled job applicants have the best opportunity to demonstrate that they can do the job
Offering and making reasonable adjustments as required
Encouraging our suppliers and partner firms to be Disability Confident
Ensuring employees have appropriate disability awareness training.
Promoting a culture of being Disability Confident
Supporting employees to manage their disabilities or health conditions
Ensuring there are no barriers to the development and progression of disabled staff
Ensuring managers are aware of how they can support staff who are sick or absent from work
Valuing and listening to feedback from disabled staff
Reviewing our Disability Confident Employer self-assessment regularly
We recognise that everyone is unique and may have particular needs during the recruitment process. If you need any job information in a different format or if you need additional support with your application please contact us on hello@enhancetheuk.org or telephone 0208 226 5055 to discuss alternative ways of applying. This includes paper, video and audio applications.

Available positions
We are not recruiting at present but do please keep checking this page and/or follow us on social media to find out about any opportunities.