Free British Sign Language Lessons
We've created a series of short, free British Sign Language lessons which we'll be sharing across the coming weeks on social media. So if you've always wanted to learn but never had the time, take advantage of this opportunity.
Who is the instructor Claire?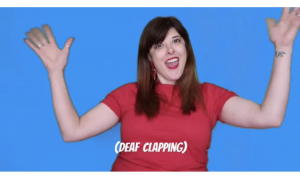 Claire Holland is our Deputy CEO and Head of Training. She is Deaf and a native sign language user. Claire delivers our accredited British sign language courses to organisations across the UK.
Follow online with hashtag #Enhance_BSL
The hashtag for our videos is #Enhance_BSL and we'd love it if you join in the online chat and let us know who you are learning with. It could be a group of colleagues who are remote working, or family members, or friends and flat mates. This taster course is suitable for all ages so the more the merrier. With 1 in 7 people in the UK having a hearing impairment, sign language is a valuable skill in all social and business environments.
Top tips for practising British Sign Language (BSL)
Claire will cover basic signs and you can play the videos back and practice in your own time.
Pay attention to the position of your hands
Facial expressions are very important. Use your eyes and body language to express emotion
Record yourself on your phone, or practise signing in front of the mirror to check hand position
Practice regularly to help you remember each sign
Join us
Thanks for your interest in British Sign Language. We hope you'll enjoy learning with us and remember to connect on twitter, LinkedIn or Instagram and join the online chat with #Enhance_BSL.
Useful Articles
You may also find these Top Tips articles of interest.
Video Conferencing with Deaf Colleagues
6 Tips for Communicating with Deaf and Hearing Impaired Colleagues